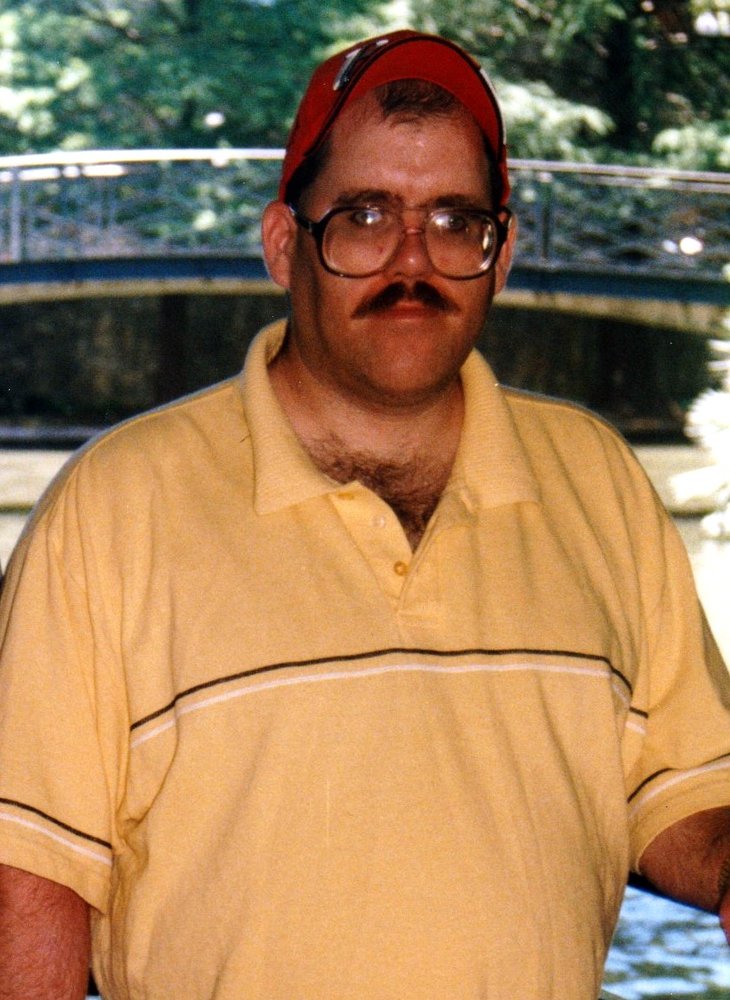 Share Your Memory of
James
Obituary of James Franklin Pickens, III
James F. Pickens, III was born in Tulsa, OK on July 30th, 1967 to James F. Pickens, II and Donna Joan (Terhune) Pickens. Known as Jimmy to family and friends, he passed peacefully into our heavenly Father's arms on Friday, June 8th, 2018 at the age of 50.
Although Jimmy was born with developmental disabilities, he was able to make great achievements that reflected great credit on himself and his family - he successfully earned his high school diploma from Nathan Hale High School, completed a Vo-Tech course in building maintenance, and completed a 20 year tour with "A New Leaf" Horticulture Training Programs for developmentally disabled adults. During this time, Jimmy also pursued additional activities by teaching himself to draw free-handedly, listening to music, broadening his love and knowledge of electronics, and increasing his vast collections of baseball cards, ball caps, and racing jackets just to name a few.
Jimmy was a fan of all sports, and a strong supporter of all military services, as well as advocating the importance of all public service entities - specifically law enforcement and emergency first responders. He also enjoyed going to the lake with his family, taking train trips, and travel in general. He was mechanically minded and liked 18-wheeler trucks, monster trucks, and railroad trains.
Jimmy was born into a family of educators and he too, was an educator. There is no doubt he was sent here on a mission to help us all learn valuable lessons in caring, patience, compassion, kindness, and understanding.
He led a full life, kept the faith, and was a brave soldier - even after enduring multiple severe illnesses, as well as enduring numerous medical treatments and hospital stays, he never gave up hope of recovery or complained. Jimmy was greatly loved by his momma, daddy, and sister - and while they are devastated and broken-hearted at the loss of such a special person in their life, they celebrate his new life and body, one free of pain and illness, where he can walk and run freely again.
He is preceded in death by his grandparents Glenn and Florence Terhune, and grandparents James and Nysa Pickens. Jimmy is survived by his father and mother, James and Donna Pickens; his sister Cheri Pickens; numerous loving aunts, uncles, and cousins all of whom loved him so dearly. Jimmy's family would like to express their deepest gratitude to those who took care of him during his multiple hospital stays at Hillcrest Hospital in Tulsa, OK as well as those who took such comforting care of him during his long stay and final days at Rolling Hills Care Center in Catoosa, OK. The family would also like to express their sincere gratitude to all of our family members and friends, for your generous thoughts and prayers at the loss of our beloved Jimmy. We love you and are so very proud of you, Jimmy - this is not good-bye, this is "until we see you again". Love Momma, Daddy, and Cheri.
Jimmy will lie in state from 10:00 a.m. to 8:00 p.m. Thursday, June 14, 2018 with family receiving friends from 5:00 pm to 7:00 pm. Private family services will be held.
Ninde Brookside, 918.742.5556, ninde.com
Visitation
10:00 am - 8:00 pm
Thursday, June 14, 2018
Ninde Brookside Funeral Home
3841 S. Peoria
Tulsa, Oklahoma, United States
Family to receive friends from 5-7 p.m.

Get Directions