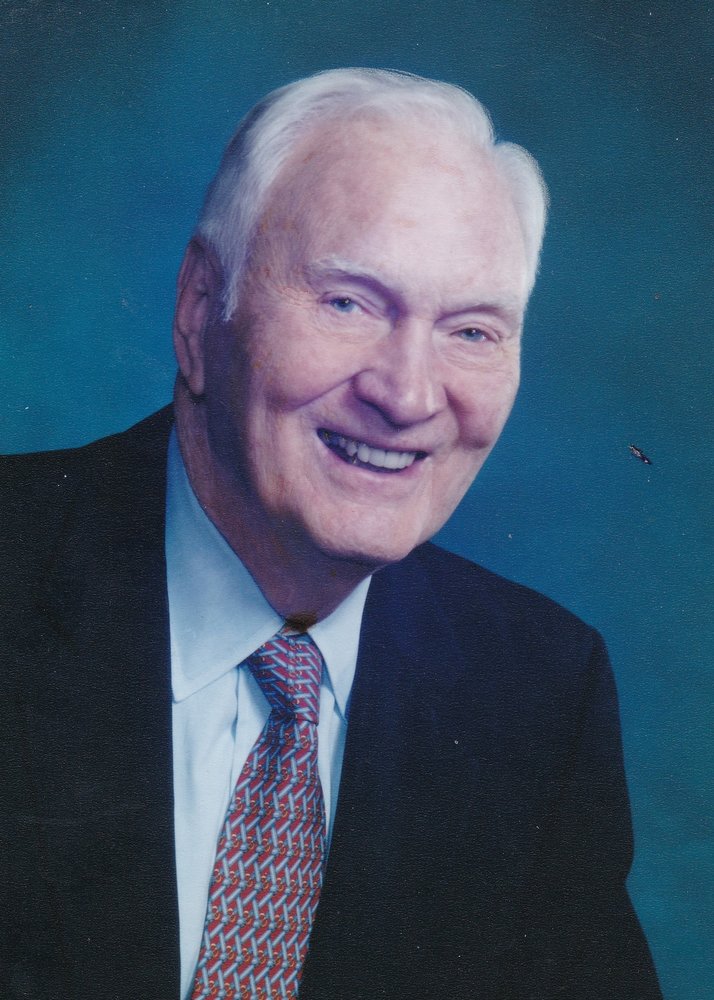 Share Your Memory of
Joseph
Obituary of Joseph Newton Tate
Joseph Newton Tate passed away on July 19th, 2018 surrounded by his loving family.
Joe was born September 15, 1926 in Marion County, Tennessee, to John Frank Tate and Lee Anderson Tate. His parents died young, leaving him to be raised in foster homes. A boy from Gizzard Holler, affectionately known as Little Joe Newt among his Tennessee clan, Joe enlisted in the US Navy at the early age of 17 and served from 1944-1946. After the Navy, Joe attended the University of Oklahoma, where he was a member of Kappa Sigma fraternity. Upon graduation in 1950, he began working in the insurance industry with RH Siegfried Company in Tulsa. Quickly rising in his career, Joe became a partner with Harrison and Harrison and, subsequent to its sale, Marsh and McClennan. Later, he and E. R. Albert III partnered to form Albert and Tate. They successfully sold to Harlan, Inc. where Joe became President and CEO. Joe's strong work ethic was further recognized when he became President and CEO of Bayly, Martin & Fay International Insurance, from which he retired in 1986. In 1990, he returned to Tulsa, where he served as Chairman of Pickard, Tate & Allen and later as a consultant with Arthur Gallagher. Joe's career consumed a large part of his life, taking him from Oklahoma to Texas to California. He was driven by his desire to provide security for his family and opportunity for his children. Joe was always grateful for the friends and mentors he had along the way.
Dedicated to the community, Joe was a member of the Scottish Rite for more than 50 years, a 32 Degree Mason and a member of The Shriners and Royal Order of Jesters. He served on the Board of Directors of the Tulsa Junior Chamber of Commerce and was a member of the Nicolas Club. Joe was also a longtime supporter of the Salvation Army Red Shield Club, where he served as President of the Advisory Board.
Golf was Joe's lifelong passion. He enjoyed the camaraderie, competition and making wagers on any and all shots. Although he joined several clubs, he always considered Southern Hills Country Club, in Tulsa, to be his home course. He enjoyed playing cards and spending time with his buddies he referred to as his "Loved Ones".
In 1990, Joe married Priscilla Cotton in Tulsa. An active couple, they enjoyed traveling throughout the United States and around the world. They especially loved their summer home in Cashiers, North Carolina, where they had many friends at the Country Club of Sapphire Valley, The Chattooga Club, and the Church of the Good Shepherd. Evenings on their deck, sipping a single malt scotch and taking in the awe-inspiring view of the Blue Ridge Mountains, fed Joe's southern soul.
Joe was a risk taker and lived life fully. He would try any food, invest aggressively and goad his children to do the same. He was always there for family and friends. If anyone was ever in need of a helping hand, he was humbled and grateful that he could offer his support and advice. Young children, including his many great-grandchildren, immediately warmed up to him. Those closest to him knew he couldn't disguise his sweet soul with his clever wit. He was loved by many and said he always slept well thanks to his clear conscience. Joe loved his wife, his dog, Lucy, and his home, and had great affection for the caregivers who helped him.
He was preceded in death by his parents; his sister, Bessie Lou Shofstall; his brothers Jasper and John Tate; his foster mother, Dr. Fannie Lou Leney; his foster sister, Louise Kennedy.
He is survived by his wife, Priscilla; his three children, Joan Tate Allen (Brian) of Portland, OR, Julianne Tate Allen (Philip) of Tulsa, OK and John Tate (Tammy) of Oregon City, OR; his step-children, Allison Cotton of Tulsa, OK and Leigh Cotton Pops (Richard) of Wellesley, MA; first-wife, Jean Newton Tate; foster brother, Bill Leney of Danville, CA; foster sister, Linda Leahy of Boston, MA; nine grandchildren and 8 great grandchildren
A celebration of Joe's life will take place 11:00 a.m. Friday, July 27th at St. John's Episcopal Church in Tulsa.
In lieu of flowers, memorial donations may be made to Tulsa Day Center for the Homeless, 415 W. Archer St., Tulsa, OK 74103, The Salvation Army, 924 S. Hudson Ave., Tulsa, OK 74112, or the charity of your choice.
Memorial Service
11:00 am - 12:00 pm
Friday, July 27, 2018
St. John's Episcopal Church
4200 S. Atlanta Place
Tulsa, Oklahoma, United States

Get Directions