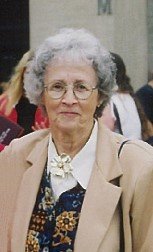 Share Your Memory of
Leatrice
Obituary of Leatrice Slankard
Leatrice (Lea) Webber Slankard was born September 4, 1927 in Adair, Oklahoma to Cordell Sheldon Webber and Nellie (Poplin) Webber. She passed away after a short illness on the evening of September 16, 2018 at the age of 91.
After graduating from Adair High School, Lea went to the Draughn's Business College in Tulsa. Lea worked at the Wat Henry Leasing Company for many years until she met and married Richard Slankard on March, 18, 1950.
Lea and Dick raised three sons, with Lea serving as a Cub Scout Den mother for all three. She encouraged them all, as each earned their Eagle Scout Award.
She adored her two granddaughters and enjoyed watching them mature into young women. She enjoyed visiting with her great-grandchildren and provided them the same experiences their mother and aunt had.
For many years Lea and Dick tended beautiful flower gardens around their house. As friends were moving away from Tulsa or into retirement homes they would bring their extra or prized flowers to Lea. Lea and Dick would plant them across the street on the vacant state property. Many a car would drive down to view this garden when the different flowers were in bloom across from their home at 50th & Boston in Tulsa.
An excellent cook, baker, and candy maker, Lea's still warm chocolate chip cookies or brownies could get her extra services and thanks from anyone working around her neighborhood.
Lea was a crafter and with each Christmas a new ornament would be made and given to her sons and granddaughters.
She was an active member of Southside Christian Church on Lewis Avenue until it closed.
Preceded in death by her parents and husband Richard Lee Slankard; Lea is survived by her twin sister Beatrice Warren of Miami and brother Donald Webber of Grove; three sons, Mike Slankard, Randy Slankard and Karen Beth Bullock, and Jon and Karen Slankard; two granddaughters, Frances Maloy and her husband Nic, and Anne Kangas and her husband LJ; one great-granddaughter, Maggie Maloy and one great-grandson, Henry Maloy; and a number of nieces and nephews.
In lieu of flowers, please contribute to the Oklahoma Medical Research Institute or your favorite charity.
A graveside service will be held 10:00 a.m. Saturday, September 29 at Floral Haven Memorial Gardens.
Graveside Service
10:00 am - 11:00 am
Saturday, September 29, 2018
Floral Haven Memorial Gardens
Broken
Arrow, Oklahoma, United States

Get Directions