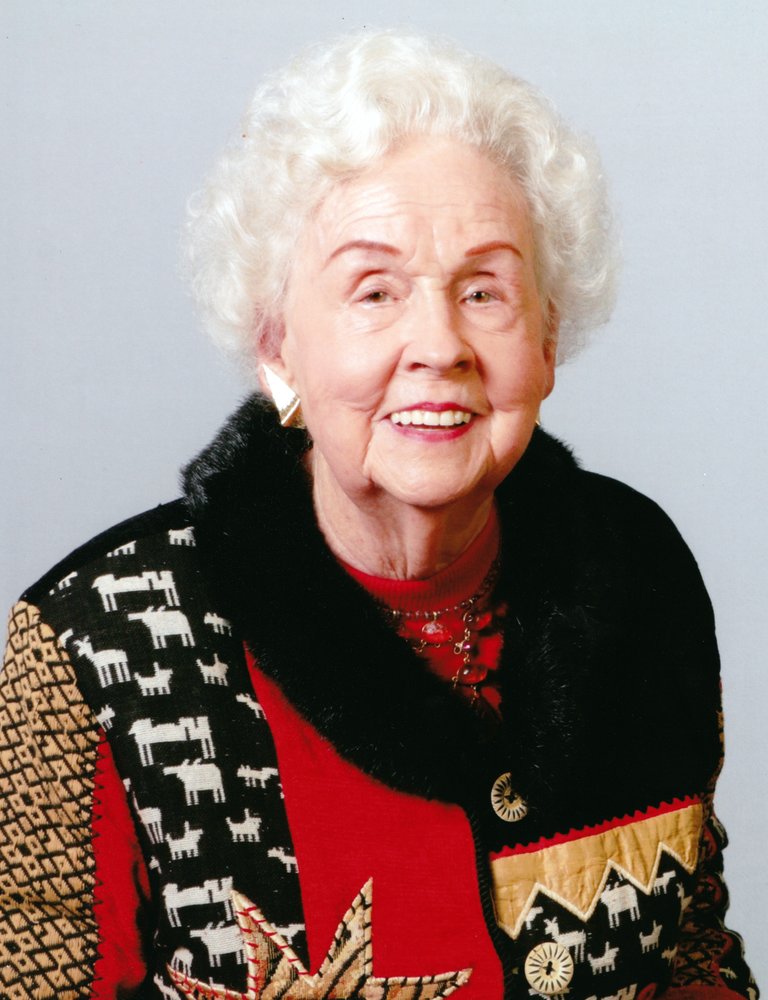 Share Your Memory of
Mildred "Millie"
Obituary of Mildred "Millie" Irene Meeker
Mildred Irene Meeker was born April 25, 1929 in Jeff, MO to John & Laura (Price) Clausing and passed from this life on September 22, 2018 at the age of 89. She was the eldest daughter of 7 children; 2 boys and 5 girls. Although times were very tough while growing up during the Great Depression, the farm provided for their needs. She would often tell us that the family never went hungry and the food was always delicious.
Upon graduation from High School, Mildred got on the train (all by herself) and traveled to Chicago to work as a Nanny for her aunt. This would have been 1947 and the very first time she had left Thayer. Chicago was a big adventure for her but that didn't last too long, the winters in Chicago were far too cold! Apparently, the winter she was in Chicago was one of the coldest and Lake Michigan froze over. Her cousins talked her into taking an ice boat ride that flew across the frozen lake. That was the one and only ice boat ride she ever had.
After departing from Chicago, Mildred got on the train again and moved to Louisville, KY to help another aunt, Aunt Della. She got a job at a factory that made men's neck ties. She was in charge of calculating the earnings and the payment of the seamstresses. Seamstresses were paid by the piece and she would have to tally the number of ties each produced so they would be paid. They were paid weekly and she was exceptionally diligent in making the books balance. This began her long career of office work.
Louisville, KY was also where she met the love of her life, Coy Meeker. They dated for a while but then Mildred was called into service by yet another aunt, this one living in Tulsa, OK. In February 1952 Mildred's sister, Barbara, was too mischievous for her Aunt Eva Lee so her aunt asked Mildred to move to Tulsa to kelp keep an eye on here. And that is how Mildred came to live in Tulsa.
Coy followed Mildred to Tulsa and they continued their relationship. They were married on October 4, 1952. They were married for 42 years and had two sons; Eric and Scott.
Mildred started working for the Sand Springs Bottling Company in August of 1952. Soon a new plant was built on I-44 and it was called Pepsi-Cola Company. At Pepsi she was called "Millie". Over the 40 years that she worked for Pepsi, she worked in just about every department in that office. She started with Sales, Customer Service, Secretary to the Vice-President of Sales, Vending, Fountains, Marketing and Food Service. She loved her job at Pepsi, especially the folks that worked there, many of which became lifelong friends.
Millie was preceded in death by her parents; her husband, Coy Lee Meeker; her sisters, Barbara "Bobbie" Nemechek and Mary Ellen McCombs; and her brother, Rudolph Clausing. She is survived by her sons, Eric Meeker and Scott & Mary Meeker; her sisters, Louise Boehm and Martha "Martie" Shraum; her brother, Johnny Clausing; and her grandson, Carson Lee Meeker.
In lieu of flowers contributions may be made in Mildred's name to SpiritLife Church, 5345 S. Peoria, Tulsa, OK 74105.
Mildred will lie in state from 10:00 a.m. to 8:00 p.m. Friday, September 28 with family receiving friends from 6-8 p.m. at the Ninde Brookside Funeral Home. A funeral will be held 10:00 a.m. Saturday, September 29, 2018 at SpiritLife Church. She will be laid to rest following at Memorial Park Cemetery.
Ninde Brookside, 918-742-5556, www.ninde.com
Visitation
10:00 am - 8:00 pm
Friday, September 28, 2018
Ninde Brookside Funeral Home
3841 S. Peoria
Tulsa, Oklahoma, United States
Family to receive friends from 6-8 p.m.

Get Directions
Funeral
10:00 am
Saturday, September 29, 2018
SpiritLife Church
5345 S. Peoria
Tulsa, Oklahoma, United States

Get Directions