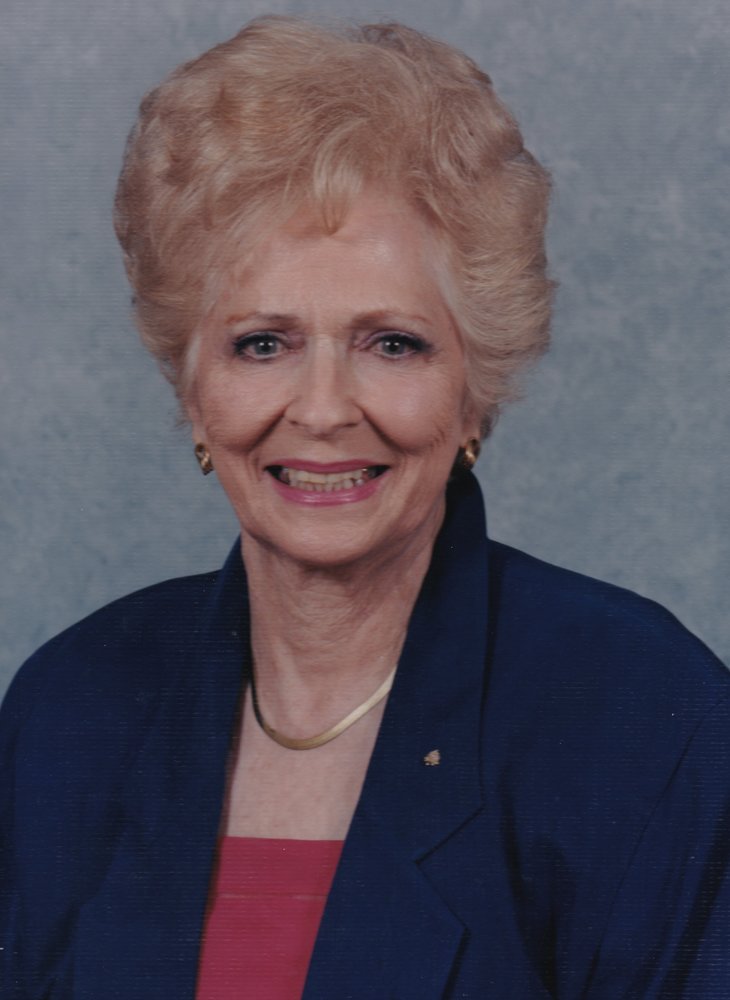 Share Your Memory of
Jacque
Obituary of Jacque Darling McKillip
Jacque Darling McKillip, age 98, went to be with the Lord Jesus Christ, while sleeping in her home, around 2:30a.m. November 6, 2018, after a lifetime full of human achievement and invention. Jacque was born in Gladewater, TX, the daughter Smead Gaughan Hudman, an oil refinery foreman and Annie Laura (Nix) Hudman, a homemaker and housewife. They would later add a son to the family, Smead G. Hudman, Jr.
Jacque enjoyed her childhood and developed a particular interest in living things, any plant or small animal, were very close to her heart and gifts from the Lord. She did well in school, particularly with language and loved her role as a big sister helping Smead. Growing up in these times was tough, everyone had their chores to make the house work and they all had to be done correctly, the first time, or they would answer to Daddy. Throughout school Jacque developed an interest in sports and joined the Color Guard. She is also taking a notice in boys and learning to dance, often being courted by a young Ibby McKillip who was a very good dancer. One afternoon as the band loaded on their bus and the football team on their bus, a loud, obnoxious quarterback for the Gladewater Bears jumped into the seat beside her and threw his arm around her neck. He looked into her eyes and said "Girl, your mine, you just never mind my brother, Ibby, I am going to marry you." Jacque didn't like him at all. In fact, she tried to hide from him and ignore his notes and calls to court. At the end of the school year, seniors were making plans for University and life, Leon snagged Jacque, who didn't seem to mind anymore, and on June 21, 1937 they were married. After which, Leon returned her to Smead and Annie Laura's house for the night and returned to his own home for the night. Of course Leon could not keep his mouth closed and he worked for the same oil field company that Jacque's dad, Smead was a foreman on. In fact, Smead had got him the job. Before the noon bell sounded, Smead had Leon by the ear and was headed to the house. Annie Laura with Jacque in about the same hold met them in the yard. Regardless, the two were in love and although tough, they would be allowed to test their marriage. Soon they moved to Leon's mother's house Mary Belle so while Leon was working in the oil fields, Belle could keep an eye on Jacque and make her earn their room and board. Mary Belle had a house full of children of her own and was single at the time traveling all over selling insurance, Jacque would take care of all the children and the house.
These times were tough for everyone, perhaps tougher than we have ever seen before. The Great Depression had its teeth deep into the fabric of every family. However, hard-working newlyweds have dreams and goals that don't require anything but sweat and elbow grease. The drive and determination alone would sometimes spread the raindrops to point the way but the dust devils typically drove them backwards. However, persistence pays off and work was found for a welder on the new GRDA dam at Pensacola. They found an apartment above a garage in Pryor and a ride that would pull up, honk once and leave 30 seconds later, whether Leon was in the car or not. Jacque would make his breakfast and lunch well before light every day and help him find his way to the honking vehicle. At the completion of the dam, the war was now in full swing with the U.S. now engaged. Young men were either volunteering for service or being drafted. Not wanting to be drafted to the Army Leon joined the Air Force. Jacque would move back with her mother and father in Memphis while her brother Smead, Jr. became a fighter pilot on the Navy Aircraft Carrier Enterprise and Leon became a 2nd Lieutenant in the Air Force flying B-29s. Jacque spent her time in classes learning to braze aluminum airframes for airplanes and was offered a position with one of the Aircraft manufacturers but declined letting them know she just wanted to know about aircraft and what her husband did. The war ended and the service men returned home. Jacque and Leon soon moved into a house of their own in Memphis that she was allowed to pick colors for paper and paint and then gave birth to their son, Michael Steven McKillip. Our country needed a lot of work to re-build after the war, the baby boomers were beginning to show up in our society and work was abundant.
Time progressed, and Jacque's family was growing around her, Leon had completed his education in University and was offered a wonderful position with Universal Oil Products. They made the decision to go and picked up their family moving to a new city in oil boom years, Tulsa, Oklahoma. There were lots of new and exciting inventions happening in the world non-stop, color television, jet aircraft, even launches to space attempting to get the first man in space. Jacque was able to pick out all carpeting, wallpaper, cabinets, knobs, pulls, etc. for their new house and after settling in Tulsa for a while quickly picked a new construction property and moved to a house that had never been lived in. As Michael was growing and Jacque teaching him the principal learnings that she was given, one theme became common and has been passed down to our youngest children today. You can do anything in life that you set your mind to.
Jacque and her family enjoyed outdoors and boating activities. Her parents had also relocated to Tulsa and had a beach house in Florida that they kept for many years. Jacque and Leon had properties and boats on a couple of the area lakes in Oklahoma. As Leon retired from the oil industry, he helped his son Michael with a construction company and Jacque spent many years volunteering for non-profit organizations like the Children's Medical Center and other church groups. They both became very active in local churches such as Epworth United Methodist Church and later Asbury Methodist Church. Jacque continued with her church and volunteer work, housework and where possible helping with transportation with the grandchildren.
After 59 years of worshiping the ground that Jacque walked on, Leon would get lung cancer and would pass away on January 6, 1996, Jacque's birthday. They had just settled into a new house in Tulsa and after he passed, Jacque surrounded herself with friends from church groups and study groups. Her son, Michael has also developed an advanced form of MS which left him a quadriplegic. Jacque helped with her son in the mornings, picking him up and driving him around the various construction sites and helping him with lunch before returning him to his house. She continued helping until he passed in 2005. For the first time in a long time, Jacque was alone with herself in her house but stayed busy with friends and church activities. On her birthday, in 2010, she fell and fractured her spine. Surgical repairs were attempted but subsequent falls made it impossible to repair her spine. She declined until she was cared for by her three grandsons and left to be with the Lord on Tuesday, November 6, 2018. Jacque is survived by her daughter-in-law, Miggie; her three grandsons; Mark, Greg and Chris; her six great grandchildren; Alex, Nikki, Ashley, Natalie, Spencer and Shelbi.
Family will receive friends
5:00 pm - 7:00 pm
Thursday, November 8, 2018
Ninde Brookside Funeral Home
3841 S. Peoria
Tulsa, Oklahoma, United States

Get Directions
Graveside Service
2:00 pm - 3:00 pm
Friday, November 9, 2018
Graveside at Memorial Park Cemetery
5111 S. Memorial
Tulsa, Oklahoma, United States

Get Directions