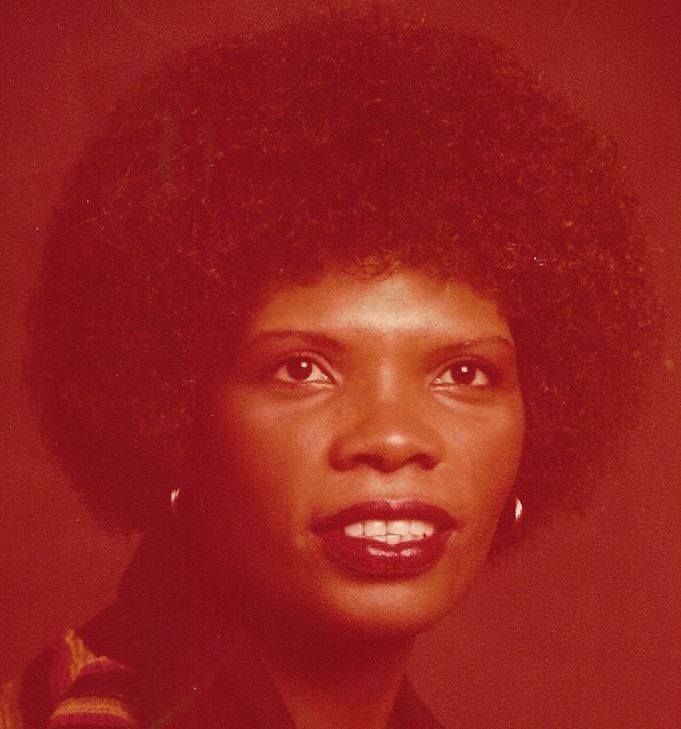 Share Your Memory of
Myrtle
Obituary of Myrtle Louise Johnson
Myrtle Louise Johnson was born in Los Angeles, CA on August 22, 1945. The daughter of Jessie Myrtle Adams and Willie B. Johnson, both of them service our country during World War II. Both preceded her in death. Myrtle lived with her grandmother, Alice Moore in Van Buren, AR. When her grandmother passed away, she then moved to Ft. Smith, AR to live with her mother and step-father, Curtis Adams, Sr.
Myrtle graduated from Lincoln High School in Ft. Smith. She always had a desire to travel. Shortly after graduation she moved to Chicago, IL, Milwaukee, WI and finally to Tulsa, OK. While living in Tulsa, one day in May 1973 she met Willie L. Johnson, it was love at first sight for both of them. Four months later they were married. They were married 45 years. They had two sons: Lamont A. Johnson (who preceded her in death) and Mario L. Johnson.
Myrtle always loved fixing peoples hair. She attended Mrs. Troupe's Beautician School and took and completed several cosmetology courses. After she completed her studies, she became a licensed beautician. Myrtle did not want to work for someone else. In 1977 she opened her own beauty shop, "Shear Delight".
Myrtle always loved God. She accepted Jesus Christ as her Lord and Savior, she was baptized at a young age. She often ministered and prayed for her customers. Many of the people that Myrtle prayed for began to realize that God was hearing and answering her prayers. The news of her gift reached Pastor James Hill at Northside Christian Center. He gave her the first opportunity to speak at a church, to lay hands on and pray for people. There were many people in line for prayer, this happened in 1995. The Holy Spirit began to move mightily in her life. God gave her a holy boldness. She had hunger for the Word that could not be filled. Myrtle began to fast and to pray day and night. The more time she spent with God, the more her relationship with God increased.
God spoke to her through the Holy Spirit and revealed to her that He had another job for her to do, fulltime. She immediately closed her beauty shop in 1997 and went to work for the Lord. She studied, trained and took theology classes all while doing the work of the Lord. Myrtle became an Intercessor. She prayed for people in hospitals, nursing homes and in the people's home. She would go wherever the Holy Spirit told her to go.
Myrtle first became a licensed evangelist in 1996 and in 1999 she became an ordained minister in the Pentecostal Church. She named her ministry, "The Bread of Life". Myrtle conducted several prayer breakfasts, participated in women's conferences and spoke in places and churches in Arkansas, Germany, Oklahoma, Texas and Virginia. She also worked for Richard Roberts at the Prayer Tower at Oral Roberts University.
The Holy Spirit also revealed to her that she had a message for the people. In 1997 she began a weekly radio broadcast in Tulsa for seven years. When the radio station was sold, she began a weekly message on Lesea Broadcasting Network in England for three years. Her messages ministered to people in Northern Africa, the Middle East and in Europe. She received many words of encouragement from people here and abroad. They all told her how much her messages helped them. We all believe that God, Jesus Christ and the Holy Spirit was pleased with the way she completed every task they assigned to her.
Myrtle leaves to mourn her passing her husband, Willie L. Johnson; son, Mario L. Johnson (Selena), Grandchildren, Darius, Mariah, Alexis and Nathan Johnson; brothers, Curtis (Kimberly) , Glen (Loretta), Carletus (Natalie) Adams; sisters, Shelia (Joseph) Meeks, Diane (John) Hughes, Linda Edwards, Carlene Adams and Mary Francis Adams (preceded her in death) and many nephews, nieces and cousins.
Visitation 5-7PM Thursday at the Ninde Brookside Funeral Home. Services to be held in Ft. Smith, AR under the direction of Rowell Parish Mortuary in Ft. Smith, AR with burial in Ft. Smith National Cemetery.
Family will receive friends
5:00 pm - 7:00 pm
Thursday, December 27, 2018
Ninde Brookside Funeral Home
3841 S. Peoria
Tulsa, Oklahoma, United States

Get Directions