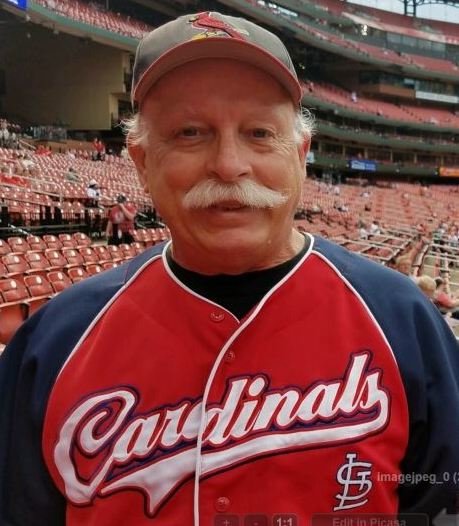 Share Your Memory of
Rich
Obituary of Rich C. Novak, Jr.
Richard Casper Novak, Jr. was born December 22, 1949 in St. Louis, MO to Richard Casper Novak, Sr. and Virginia Lee (Carmody) Novak and passed from this life on January 1, 2019 at the age of 69. Rich was known as confident and competent, a philanthropist, and a devout Christian who thoroughly enjoyed a witty conversation. As a loving son, husband, father, grandfather and friend, he enriched many lives and shared his joy.
Rich was raised in St. Louis and was graduated from Roosevelt High School with the class of '69, lived many places, then eventually settled in Tulsa. He pursued education in mechanics at Bailey Tech, accounting at Univ of Arkansas and A&P at Spartan in Tulsa. Rich's career included endeavors in auto sales and service, event staffing, ASA/Delta Airlines, accounting and owning small businesses. He started his work history at an early age, selling newspapers on the corner. He was an avid Cardinal's fan and started playing baseball very young. He later shared the game with his children and grandchildren and his blue eyes would twinkle when talking baseball with any other fan.
Rich was a proud Vietnam vet, loved his Harley and was blessed to ride with an outstanding group of Christian friends. Master of the dad jokes, always proud to be known as the pawn shop king and grill master extraordinaire, Rich lived life to the fullest and enjoyed every moment. He was musically passionate, learning piano, practicing guitar, and placing instruments where he saw a need. He supported Little Lighthouse, Bikers for Christ, Abate, South Tulsa Community House, Midwest Harp Academy, St. John's Hospital, Tulsa Zoo and many others. Despite occasional tough times he still managed to travel the world as well as generously nurture the dreams of those around him.
On May 8, 2004 Rich and Elizabeth met on the dance floor at the Elks Lodge. He actually signed her dance card, and they continued to dance at every opportunity. As a true romantic, he proposed under the Eiffel Tower. While holding grandkids they recited their wedding vows on July 16, 2005 then honeymooned in Florence, only the beginning of their adventures. Even though they had both been married before, the intense love they had for each other surpassed any fairy-tale ever written. His dedication to God, his wife, family, and friends was boundless.
Rich is preceded in death by his parents and his son, David Cason. He is survived by his wife, Elizabeth Ann (Knopps) McBride Novak; his children and their spouses, Erik Novak, Paul Novak, Sean & Angie Novak, Amanda & Chris Hinkle, Joseph McBride, and Jennifer & Eric Griffith; and his 13 grandchildren.
In lieu of flowers the family suggest donations be made to the Sand Springs Animal Welfare, City of Sand Springs, P.O. Box 338, Sand Springs, OK 74063 or The Little Light House, 5120 E 36th St, Tulsa, OK 74135.
Celebration of Life
1:00 pm
Saturday, January 12, 2019
Southwood Bible Church
7655 S. Sheridan
Tulsa, Oklahoma, United States

Get Directions