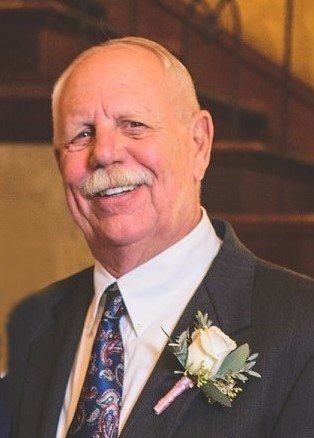 Share Your Memory of
Kenneth
Obituary of Kenneth Ray Foote
Ken, a master storyteller, was well-known for his outgoing personality, dry wit, and incredible sense of humor. A loving husband and devoted father, Ken doted on his wife, Marsha, of 43 years, and his two sons, Jay and Shawn.
Ken loved spending his weekends with his wife at the lake. An amateur inventor and master tinkerer, he would spend hours building baskets out of chicken wire for the breakwater. Marsha would fill them with rocks, and they would continue until they were tired, it was dark, or they simply needed more supplies. Any other couple would buy a lake house to relax, rather than to take on more projects. Never a fan of being idle, they were constantly at each other's side, working and creating. They were perfect complements.
His sons will always remember his as a loving and supportive father who always there for them no matter what. Everything they learned about home improvement, whether correct or simply close enough, was taught by him. As young boys, nothing enthralled them more than climbing onto the roof, crawling under the house, or digging a hole, as long as they were by their dad's side. Ken could fix anything with $3 in old parts, a couple of hours, and usually a pint of his blood.
His grandkids, Quinlan, "Sweet Pea", and Hayden, "Big Shorty", were the center of his world. When his Sweet Pea was obsessed with door stops, he bought every different style he could find, screwed them into a piece of wood, and gave it to her to play with. It was a hit! He loved toy shopping for them, taking them on treasure hunts with a metal detector to find pirate gold, or doing whatever he could think of to make them smile. They will remember a loving person whose world revolved around them. They adored him. Ken couldn't wait to meet his newest grandson, Colt Walker.
A self-reliant family man, Ken's compassion drove him to play an active and committed role in his community. As a veteran of the United State Marine Corps, he was always willing to get involved. Whether it was building a playground, coaching a team, or sleeping in freezing temperatures at his son's Cub Scout camp out in a child's size He-Man sleeping bag, Ken was there. Later in his life, he was passionate about the neighborhood association and volunteering for local events. Family, friends, community, or just someone that needed help changing a tire, Ken never met a stranger. He pitched in with a smile and a willing spirit. He was truly a man with a heart of gold.
Family will recieve friends
5:00 pm - 7:00 pm
Monday, January 7, 2019
Ninde Brookside Funeral Home
3841 S. Peoria
Tulsa, Oklahoma, United States

Get Directions