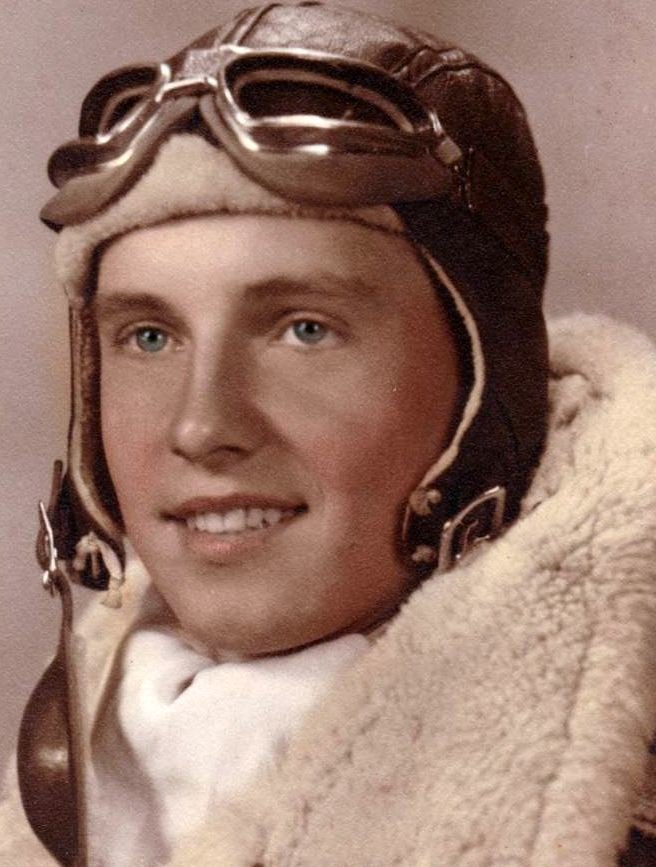 Share Your Memory of
Frank
Obituary of Frank L. Slane
Frank Louis Slane was born January 7th, 1924 in Newton County, MO to Clyde Simon and Thelma Elizabeth (Looney) Slane. He passed from this life on January 10th, 2019 at the age of 95.
Frank volunteered for the Army Air Corps on his 18th birthday while he was a freshman at Kansas State Teachers College, one month after the attack on Pearl Harbor. He graduated as a 2nd lieutenant and was assigned to be a flight instructor, but he had a desire for combat. He flew a number of different fighter and transport aircraft in WWII, including multiple supply drops to the troops near Bastogne during the Battle of the Bulge. However, his most harrowing assignment was to pilot a glider carrying troops and equipment behind enemy lines in Operation VARSITY during the allied invasion of the Rhineland in March, 1945. "Since gliders don't have an engine, when the tow plane cuts you loose, there is only one way in and no way out," he recalls.
Frank finished his military service in 1946 and returned to college where he earned a degree in education, and he taught high school in Galena, Kansas for the next three years, but aviation was in his blood. He attended Spartan School of Aeronautics and after graduation became a flight instructor and test pilot there. It was in Tulsa that he became associated with the Oklahoma Air National Guard in 1952.
He is remembered for being the aircraft commander of the first around-the-world flight by an Air National Guard unit. He also flew transports during the Cuban Missile Crisis and during the Vietnam War before receiving training as a jet pilot, flying F-100 fighter jets until his retirement in 1975.
Upon retiring from the Air Guard with the rank of Lt. Colonel, Frank devoted his time to volunteer activities. He was a board member of RSVP, and delivered Meals on Wheels well into his nineties, but his passion was for Toastmasters. He was a member of Toastmasters for 50 years, variously serving as a District Governor and International Director. He belonged to seven different Toastmaster clubs in Tulsa and was the treasurer for three of them.
Frank was preceded in death by his parents; his wife, Phyllis Alene (McCollum) Slane; his sister Thelma Marzulo, his brother-in-law Bill Phipps, and step-son Phil Ritz. He is survived by his sister Norma Phipps, his sons and their wives, Rodney Dale Slane and Jill, and Keith Alan Slane and Janice, his step-sons Bob Ritz and Dr. Ralph Ritz, 13 grandchildren, 10 great-grandchildren, and special friend Barbara McClintock.
A memorial service will be held at 11:00 am, Saturday, February 9th at the Ninde Brookside Chapel, 3841 S. Peoria.
In lieu of flowers the family suggests contributions to be made to Meals on Wheels, 12620 East 31st Street, Tulsa, OK, Toastmasters International, 2601 South Garnett Road, Tulsa, OK 74129, or Porta Caeli Hospice, 2440 North Harvard, Tulsa, OK 74115.
Ninde Brookside, (918) 742-5556, ninde.com.
Memorial Service
11:00 am
Saturday, February 9, 2019
Ninde Brookside Chapel
3841 S. Peoria
Tulsa, Oklahoma, United States
918-742-5556

Get Directions