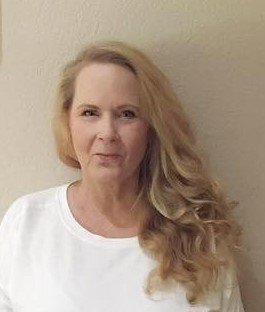 Share Your Memory of
Jamie
Obituary of Jamie Lynn Ferguson
Jamie Lynn Shaddox was born on Monday, October 3, 1960 to her adoring parents, Glenn and Betty Shaddox, at Hillcrest Hospital in Tulsa, Oklahoma. Jamie unexpectedly went home to be with her Lord Jesus Christ on Friday, April 5, 2019 at the age of fifty-eight. Jamie was the youngest of three children. Her oldest sister Teresa and older brother Randy loved her dearly and they always looked after their younger sister. Jamie received her education at Park Elementary School, Clinton Junior High School and Daniel Webster High School, graduating with the class of 1978. Jamie's zest-for-life, wit, and free-spirit made an impact on the friends she made at school, church, and the neighborhood friends she made in Kansas City, Missouri.
After high school Jamie went to work for Southwestern Bell where she met Mark Ferguson, who also worked for the phone company. Jamie told her youngest daughter that she looked forward to seeing Mark after work at a local hangout, and when she attended a ski trip that solidified their relationship, she was overjoyed. Jamie got some of her disarming wit from her father Glenn Shaddox. Glenn told Mark if he married Jamie, he would give him a portable dishwasher that Mark had his eye on. Mark happily obliged.
Two days before Mark and Jamie were to be wed, Mark and his friends played a game of flag football and Mark shattered his ankle. Jamie, stubborn and eager to wed, made sure that she and Mark were married on their wedding date August 27, 1983. Since Mark's ankle was shattered, they were married at St. John's Medical Center. In all their wedding pictures, Mark is wearing a hospital gown, and Jamie is wearing a beautiful lace wedding dress. Their wedding was so special it made the newspapers and the televised news.
After their wedding, Mark and Jamie moved to a tiny house on S. Fulton Ave. in Tulsa, Oklahoma. On March 16, 1984 Mark and Jamie welcomed their first-born Casey Shea Ferguson into the world. Two years later Meagan Elizabeth Ferguson was born on March 15, 1986. Jamie loved being a mother to her two girls, and she dressed them in adorable dresses, giant bows, and frilly socks. On Wednesday November 12, 1986 Jamie and her little family's life changed forever. Jamie slid on a patch of black ice, which ejected her from the car leaving her with critical injuries. Her two girls, Meagan and Casey, were also in the car, but the girls only sustained minor injuries. Jamie survived the accident and her beloved husband, daughters, and extended family stood by her side through the recovery process, which ultimately lasted until the day that she went home to be with the Lord. Although Jamie lost function in her right hand, received a spine contracted of metal, and her torn legs mended by skin grafts, she never let her disabilities stop her from being a mother, wife, daughter, sister, cousin, or friend. Jamie often made jokes about her visible disabilities, calling her hand the "club" and telling strangers she survived a shark attack.
Jamie experienced both physical and emotional pain from her tragic car accident, and her husband Mark stood by her for thirty-six years of wedded bliss. Jamie was forced to retire from Southwestern Bell, and she and Mark moved to Kansas City, Missouri so Mark could take a higher paying job. After Jamie's accident, she was told she could never have another child. In 1989 she became pregnant with her third daughter, Hailey Rae Ferguson. Jamie was on bedrest during the entire pregnancy and endured the pain of pregnancy alongside the trauma of her accident, so she could bring Hailey into the world. Hailey was born on June 19th, 1990. Jamie and Mark's parents and siblings were active in all three girls' lives, and Jamie welcomed the company of her beloved family.
Jamie had great instincts as a mother. She was a dedicated homeroom mother, Girl Scout Troop leader, cheerleader, Tea-Kwon-Do master, and theater director. She loved watching her girls grow up and being active in their lives. In the last nine years of her life, Jamie and Mark helped raise two more little girls, Madalyn Higgins and Lily Bradley. Jamie stayed at home with the girls while their mother worked, and Jamie formed a special bond with the children. When friends of the Ferguson girls speak of Jamie, they say they think of her as their own mother, so it is fitting that she became a key part of Madalyn and Lily's lives.
Jamie was a diehard Kansas City Chiefs fan, so much so that she and Mark had to watch the same football games in different rooms because Jamie could not help but scream and yell at the television like she was in the front row. Jamie was a free-spirit and a fan of music from the 1960s and '70s. She often rolled down all her car windows to blare the Eagles, Emmy Lou Harris, and Van Morrison for the entire world to hear. Jamie was a creative and an innovator. She often joked that she should be a billionaire, because she started creating bracelets before Kendra Scott, and coloring before adult coloring books were popular.
Jamie was always exuberant and highly animated. If Mark sent her to the grocery store with five items on the list, she would undoubtably come home with twenty items and explain, "it was on sale!" In the last five years of her life, Jamie was determined to be more involved in her families' life. She was elated when her oldest daughter Casey and long-time partner Jesse Drury married. She planned a fabulous bachelorette party where she predictably bought enough food to feed the entire venue, even though only seven people were attending Casey's party. In 2017 Casey became pregnant with Jamie's grandson, Wyatt Robert Drury. Jamie was proud that Casey borrowed Robert, her father's middle name. Jamie showed complete strangers photo and videos of Wyatt; she bought him cards, books, and clothing; and she was determined to visit Wyatt, Casey, and Jesse every six weeks.
Jamie is survived by: her husband, Mark Ferguson, of the home; her daughters: Casey Ferguson, and her husband, Jesse Drury, of Garland, Texas, Meagan Ferguson of Tulsa, Hailey Ferguson of Tulsa; her grandson, Wyatt Robert Drury; her sister, Teresa Shaddox, of Tulsa, her brother, Randy Shaddox, and his wife, Liz, of Tulsa; her mother-in-law, Leona Woods, of Tulsa; her aunt, Gloria Cochran, of Berryhill; Lily and Madalyn, who Jamie thought of as her granddaughters and several cousins and other relatives as well as friends which is evidenced by your presence here today.
While Jamie is no longer with us, she would want her friends and family to truly live their best lives. She would want everyone to roll their windows down, sway to the music, laugh like their life depended on it, and hold their loved ones close. Whenever you see a peony, hear an Eagles song, watch a Chiefs game, or hug your children, think of Jamie and remember her love and zest for life.
Family will receive friends
5:00 pm - 7:00 pm
Tuesday, April 9, 2019
Ninde Brookside Funeral Home
3841 S. Peoria
Tulsa, Oklahoma, United States

Get Directions
Memorial Service
2:00 pm - 3:00 pm
Wednesday, April 10, 2019
Ninde Brookside Chapel
3841 S. Peoria
Tulsa, Oklahoma, United States
918-742-5556

Get Directions