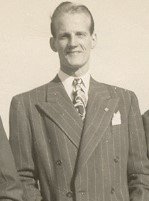 Share Your Memory of
Ralph
Obituary of Ralph Simpson
Willis Ralph Simpson was born October 25, 1924 in Tulsa, Oklahoma to William Riley Simpson & Gertrude Mae (Jones) Simpson. He passed from this life on June 9, 2019 at the age of 94.
Ralph graduated from Tulsa Central High School in 1942 and was drafted into the U.S. Army and served in the 104th Infantry Division, known as the Timberwolves. His division landed in France in September 1944, a few months after the allied D-Day invasion of France against Nazi Germany. Ralph served in France, Holland, Belgium, Germany, and helped liberate 750 of the of the last surviving Jews in the Nazi concentration camp Dora-Mittlebau in central Germany on April 11th 1945. Ralph was honorably discharged as a Master Sergeant in 1945 after allied forces defeated Germany in World War II, prior to his 21st birthday. After he returned home from the war, he attended University of Tulsa on the GI Bill, graduating with a Bachelor's Degree in Engineering. After graduating from college, he worked for a heating and air conditioning company in Tulsa, a financial holding company in Colorado, a real estate brokerage firm in Michigan, and returned to Tulsa to work for the Federal Housing Administration. Ralph then started his own real estate brokerage firm, Marquis Realtors, as a real estate broker, homebuilder, and finally as an independent real estate appraiser, retiring in 2004 at the age 80.
Ralph was preceded in death by his parents; his half-brothers Lon Simpson, William Lacy Blackstone, his sister Vivian Irene Ninde, his wife of 68 years, Betty Louise Simpson, and his first son, Ronald Ralph Simpson. He is survived by his sons, Randolph Joseph Simpson, Robert Jack Simpson and William Riley Simpson II; 7 grandchildren; and 3 great grandchildren.
A graveside service will be held 10:30 a.m. Friday, June 14, 2019 at Memorial Park Cemetery.
Ninde Brookside, 918-742-5556, www.ninde.com
Graveside Service
10:30 am
Friday, June 14, 2019
Memorial Park Cemetery
51st & Memorial Drive
Tulsa, Oklahoma, United States

Get Directions