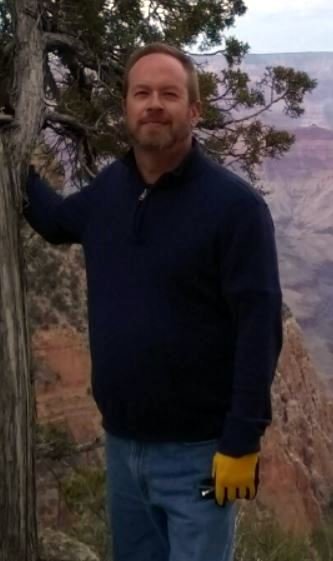 Share Your Memory of
Jayson
Obituary of Jayson Marcus Carter
Jayson Marcus Carter was born July 4, 1974 in Irving, TX to Jay Michael & Jane Kay (Compton) Carter of Ada, OK and passed from this life on June 19, 2019 at the age of 44.
During his early years, Jayson and his family lived in Tulsa. Then, he and his dad lived in Alaska for a short time before settling in Oklahoma City. Jayson played tennis and was a member of the 5 Alive's Challenge Bowl Team at John Marshall High School where he graduated as an Oklahoma Academic All State award winner in 1992. He first attended Duke University and the University of Oklahoma studying psychology and philosophy. After a 15-year career in the restaurant business, most notably as a corporate trainer for the Hal Smith Restaurant Group at Redrock Canyon Grill and Louie's, he attended the University of Tulsa. There, he studied history, political science, and classics, earning his Bachelor of Arts in History in 2017. Throughout his life, Jayson had also established two businesses: Carter's Tireless Errand Service and Carter's Commercial Cleaning. In 1998, he met Christina and they were later married in 2001. They bought their first home in Norman where Claire was born in 2007. Jayson's favorite and proudest "job" was as a stay-at-home Dad to Claire. Most recently, he returned to the University of Tulsa where he was working as a Graduate Assistant for the History Department to earn his Master of Arts. Jayson loved Oklahoma History and was hoping to one day become a History professor. He loved OU Football and the Chicago Cubs. Music was a passion that Jayson shared with both his and his wife's family. He sang, played guitar, bass, drums, and dabbled with harmonica and piano. Jayson was an avid reader and a "foodie" who loved comedy, the arts, and politics. His hobbies included cooking, gardening, hiking, playing tennis, attending concerts, researching his family ancestry, and traveling. Jayson had a thirst for knowledge and adventure, and he truly lived his life to its fullest.
Preceded in death by his parents, Jayson is survived by his wife, Christina Michelle (Kassen) Carter; his daughter, Claire Marie Carter; his brother and his wife, Mike & Mandy Carter; his sisters, Adele Michels and Shelly Carter; nieces and nephews including Justin, Tabitha, Bradley and his wife Michelle, Garrett, Janie, Zeke and his wife Taylor, Zoey; great nieces and nephews including Kolton, Haskell, Haley, Austin, Bentley, Riddick, and Hank.
A Celebration of Life will be held 1:00 p.m. Saturday, July 13, at All Souls Unitarian Church, 2952 S. Peoria, Tulsa, OK.
Ninde Brookside, 918-742-5556, www.ninde.com