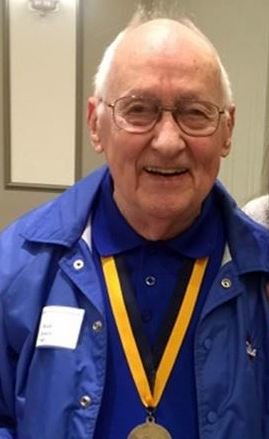 Obituary of Rod Jones
H. Rodman (Rod) Jones, 98, Tulsa University Professor of Theater and Communications, passed from this life on Monday, August 26, 2019 at Inverness Health Center.
Born January 27, 1921 in Dallas, Texas to Horace P. and Franc Eleander "Watkins" Jones. Rod moved to Memphis, with his family, when he was a toddler and began school there. After the death of his mother, when he was 10 years old, he moved with his father and younger sister to Tulsa, where he lived and taught for the rest of his life.
He graduated from Tulsa Central High School, attended Tulsa University and received a Bachelor of Arts degree, majoring in Speech and Theater. He continued his education at the University of Iowa, where he earned a Master's Degree in Theater and met Mary June (Pinkie) Wickersham. They married, June 9, 1944, while Rod was serving as a 1st Lieutenant and pilot instructor in the Army Air Corp. After WWII was over, Rod and Pinkie returned to Tulsa where he became a professor at Tulsa University, teaching oral communications, theater classes and Children's Literature. In 1952, he received his PhD at Northwestern University in Evanston, Illinois. As an administrator, Rod was Dean of the Night School and then Dean of Freshman.
Rod and Pinkie loved performing in plays at TU and Tulsa Little Theater. After retirement, they were Gillies at Gilcrease, Library Ambassadors, and presented programs for Friends of the Library at different retirement centers in Tulsa. They were presented the Tower Award for the Buddy Bookworm show and other service to the library. Rod also sang in the First Methodist Church choir and taught Sunday School.
Rod was preceded in death by his father; mother; step-mother, Stella "Parker" Jones; and sister, Frances "Jones" Stephens. He is survived by his children, Jay Jones (Judith) and Jan Childress (Skip); grandchildren, Kathy Mears (Mike) and Tim Childress (Krista); 3 great-grandchildren and 3 nephews, Alan Stephens (Donna), Dan Stephens (Venette), and Tim Stephens (Claire) and their families.
Rod had a small role in the movie, Tex, based on the novel of the same name by Tulsa native, S. E. Hinton. The character in the movie is a doctor with the name, "Rod Jones", which should have helped "would be researchers." TV Guide figured it out, but another online source gives credit to Roderick Jones, a Welch actor. For many years our Rodman has been cashing residual checks from Screen Actors Guild, for his performance, and a couple of days before his death, when he heard about the mix up, he just laughed and told another tale. Like all great story tellers, Rod left us wanting more!
Memorial services will be held in Founders Hall at Inverness Retirement Center on Tuesday, September 3, 2019 at 11:00 a.m. The family requests donations in his memory be made to the Tulsa Public Library at https://www.tulsalibrary.org/donate
Ninde Brookside, 918.742.5556, ninde.com
Memorial Service
11:00 am
Tuesday, September 3, 2019
Inverness Village Founders Hall
3800 W. 71st
Tulsa, Oklahoma, United States

Get Directions