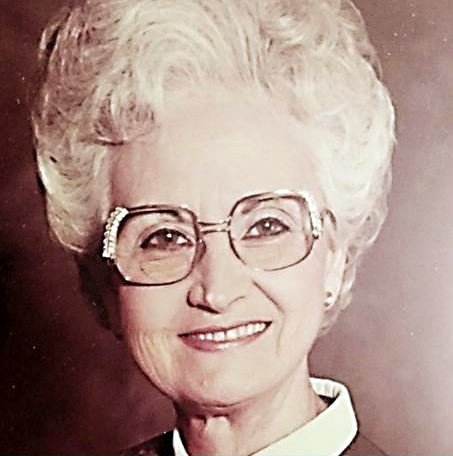 Share Your Memory of
Mildred
Obituary of Mildred Laverne Patton
Mildred Laverne (Gallagher) Patton, age 96, was born June 19, 1923 in Lodi, Latimer Co., Oklahoma to Leo George and Eva Eunice (Bowling) Gallagher. She passed peacefully from this life in her home November 7, 2019 having lived 96 years, 4 months and 19 days. She married the love of her life, the late 1st Sgt. Walter Lee Patton on February 8, 1943 in Tulsa, Tulsa Co., OK, their marriage lasting over 69 years. He preceded her in death on September 12, 2006.
She was a devoted Roman Catholic having attended St. Catherine and Holy Family Catholic schools and was a member of St. Mary's Catholic Church. Mildred was a dedicated wife and mother first and foremost. She was an extraordinary woman who was "always intellectually ahead of her time, and a forward thinker." She loved to cook, kept an immaculate house, loved to go shopping. Her favorite time was when she and her husband spent every Saturday night out dancing. She especially loved her role as MIMI to her grandchildren. She will be dearly missed and forever in our hearts by her family and by those that were touched by her beautiful smile and kindness.
Mildred was preceded in death by her parents; her husband; her siblings, Doris Brewington, James Gallagher and Louise O'Keefe; 3 grandchildren; and 1 great grandchild. She is survived by her daughters, Brenda Graham and husband Bill, Janice Patton, Carol Longacre all of Tulsa and Sharon Lindsay of San Antonio, TX; 8 grandchildren; and 9 great grandchildren. The delight of her later years was Brenda Mae, a huggy-kissy pomeranian.
Because our pets give us unconditional love and enrich our lives, she would be honored to have donations made to G.I. Wishes, A Pet for A Vet, 5216 E. 69th Pl., Tulsa, OK 74136, Tel: 918-477-7606, Email: J.R.Becker@giwishes.org or St. Catherine's Catholic School, 2515 W. 46th St, Tulsa, OK 74107. A private cryptside service was held 2 p.m. Monday November 11, 2019 at Memorial Park Cemetery Mausoleum, with Chaplin Randy Shaddox officiating, due to her friends not being able to attend, because they decided to beat her to the Pearly Gates.
Ninde Brookside, 918-742-5556, www.ninde.com